Commercial Painting Portfolio
The Melvin J. and Claire Levine Animal Care Complex - Palm Beach Zoo
The animal care complex cares for and rehabilitates all the animals within the zoo. Many of the smaller animals, especially the birds, are susceptible to respiratory damage from paint and chemical fumes. To prevent harm we used Harmony ®, a zero VOC formulated paint from Sherwin Williams.
Tiger Night Cages - Palm Beach Zoo
The tigers at the Palm Beach Zoo are especially harsh to the wall coatings in their night cages. An industrial epoxy from Sherwin Williams was utilized to offset the harsh treatment these walls receive.
Susan G Komen, Good Samaritan Hospital - West Palm Beach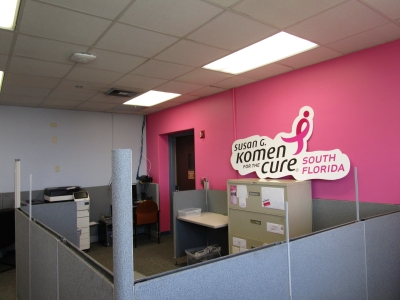 Susan G. Komen is the largest non profit breast cancer organization in the United States and globally. We were honored to be the chosen painting contractor for their South Florida affiliate office located inside the Good Samaritan Hospital.
MD Now - Pembroke Pines

MD Now is the largest and fastest growing independent provider of urgent care services in South Florida. We had to coordinate our schedule to accommodate patient parking because MD Now is open 7 days a week.
MD Now - Lantana
MD Now also awarded us this satellite office to paint as well as others.
Kendall

This office was recently purchased in 2017.
Imagine Chancellor Charter School - Boynton Beach
Imagine Chancellor is an "A" rated charter school. The entire school exterior was painted over the summer recess. A diesel powered telescopic lift was utilized to reach high areas efficiently.
Atlantic Aviation - Palm Beach International Airport (PBI)
Atlantic Aviation provides office space, hangers, and other services for aviation companies.
Jet Fuel Depot Perimeter Wall - Palm Beach International Airport (PBI)
We painted the perimeter wall and dumpster enclosure around this jet fuel depot.
Circa Who - Historic Northwood, West Palm Beach
Circa Who is a trendy resale shop located in historic Northwood, West Palm Beach.
Brown Distributing Company - West Palm Beach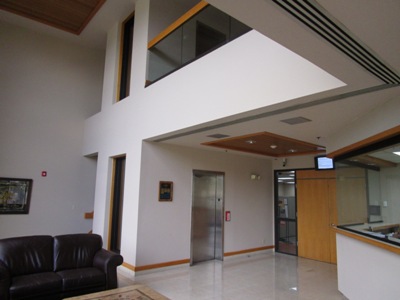 Brown Distributing is a huge beverage distribution company established in 1919. We were chosen to repaint all the common office areas, several offices, and refinish many desk tops within the corporate office headquarters.
Inlet Reef Apartments - Palm Beach Shores, Singer Island
The owners of this apartment complex on Singer Island wanted the building modernized. Sharon helped Paul choose a modern color scheme that accentuated the beach apartments. The walls were painted in a light sand color, the trim darker, while the doors were painted with a Sherwin Williams cool neutral; Sea Serpent. The hand railings were repainted to bronze; a more contemporary color near the beach rather than the old 1970 yellows.
Law Offices - Clematis Street, West Palm Beach
We painted the reception area, conference room, three of the offices, and the entire cubicle room in this Clematis Street law office. We completed the project start to finish over one weekend so that the firm was not inconvenienced or distracted from their busy schedules.
Yard House Restaurant - Downtown, Palm Beach Gardens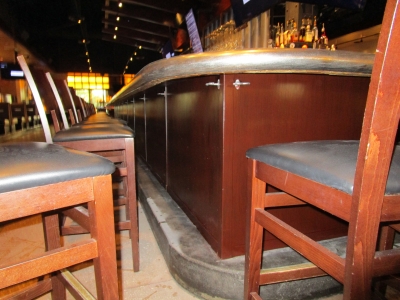 The Yard House at Downtown Palm Beach Gardens is described as an upscale-casual eatery known for great food, classic rock music and 100-250 taps of imported, craft, specialty ales and lagers. We were hired to sand, stain, and seal all the wood around the bar and restaurant.
Village Sqaure Shopping Center - Tequesta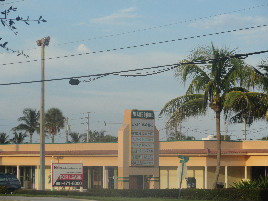 Village Square is a very large, 3-city block shopping Goliath. The scores of columns had to be caulked, waterproofed, and then painted. Vinyl numbers were made and installed on the rear doors. Special painting permits were secured with Tequesta city hall. Paint colors and work schedules were approved and coordinated with Tequesta's zoning and law enforcement.
Accurate Painting of the Palm Beaches, Inc. works closely with local governments when special permitting and approval is required.
ABC Fine Wine & Spirits - West Palm Beach
The ABC Fine Wine & Spirits Company normally paints their renovations in-house. An outside contractor was sought to expedite this West Palm Beach renovation. Accurate Painting of the Palm Beaches, Inc. was chosen after we made our presentation through a detailed painting proposal packet complete with licenses, insurance, and references.
City Mattress - Boca Raton
We painted this shopping plaza when it was built in 1999. Accurate Painting of the Palm Beaches, Inc. was hired by architect and designer Mummaw and Associates.
Warehouse Exterior - West Palm Beach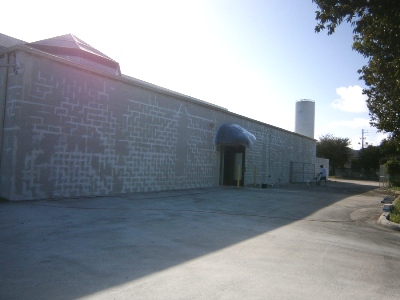 This 20,000 square foot warehouse had not been painted for over 20 years. Five gallons of elastomeric patching compound was needed to waterproof all the cracks that had developed in the neglected concrete block walls. The sealer and top coats made the walls appear new again.
Warehouse Interior Bay Area - West Palm Beach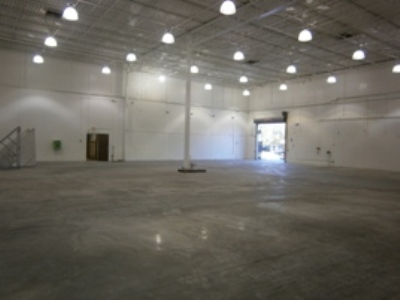 We also painted the interior bay area of this same warehouse. The walls are 25 feet high and over 125 feet long. We pressure cleaned and sealed the concrete block before painting the walls with multiple coats of high gloss white.
Pero Family Farms, Executive Offices' Lobby - Delray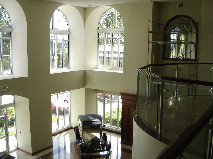 This massive 3-story interior lobby was prepped and painted in just two days as estimated. A specialty heavy duty, rolling scaffold had to be utilized to paint the high areas efficiently. Extraordinary care was needed to protect the restored Model-T truck, the company's first delivery truck.
Accurate Painting of the Palm Beaches, Inc. uses specialty equipment when the project is difficult.
Two-Story Townhomes - US 1, North Palm Beach
These large town homes were poorly painted by another painting company. The fascia had large amounts of roofing tar drips painted over. We were hired to correct the problem. A diesel powered telescopic lift was utilized to reach difficult high areas above trees and garage roofs.
Accurate Painting of the Palm Beaches, Inc. is experienced with operating heavy equipment when needed on commercial projects.