Suede Walls & Faux Wood Grain Trim - Olympia, Wellington
Olympia is a premier neighborhood located in the heart of Wellington. The walls in this home were painted in shades of green. The doors, crown molding, baseboards, and trim created niches were painted in white. The home owners wanted all the doors and trim wood grained with the walls decorated in varying shades of Ralph Lauren Suede.
The wood grained trim beautifully accented the furniture, tile, and cabinets. The suede walls richly accented the wood grain and gave the home a contemporary look and feel. Notice the chandelier medallion that was also decorated and written about next.
Gold and Silver Faux - Foyer Ceiling Chandelier Medallion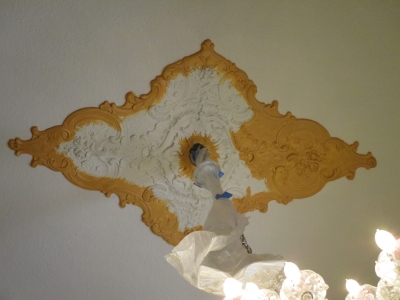 The chandelier medallion was a four part process. First we base coated the medallion with color, decorated with gold glaze, ragged a penetrating stain, then accented with silver glaze.
Faux Marble Column - Home Dining Area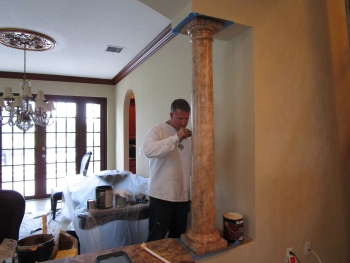 The painted white columns were base coated and then decorated to a faux marble.
Faux Wood Grain - Foyer Stairway Stringers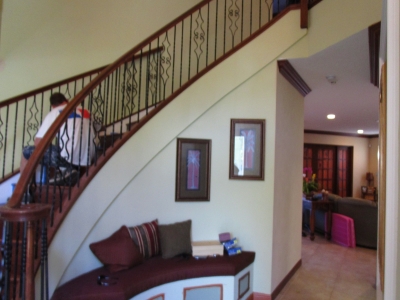 The stairway stringers also painted green, were base coated, faux wood grained with a glaze, and then sealed to match the stairway treads giving the stairway a realistic wood look.
The Addison - Boca Raton
Whitewash, Pickled Doors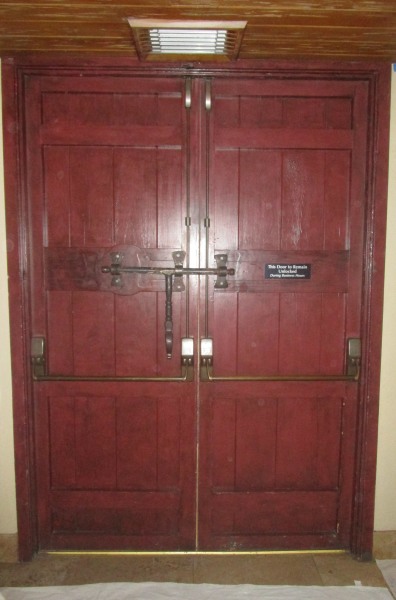 The Addison is a unique venue and the former home of the renowned architect, Addison Mizner. Originally built in 1926, the grounds have been restored into a landmark events facility. The management company contracted with us to give these doors a faux whitewash look. They have been previously faux stained. Notice the ceiling was also faux whitewashed.
Decorative Painting - Ibis Golf and Country Club
Air Brushed Clouds In 3-D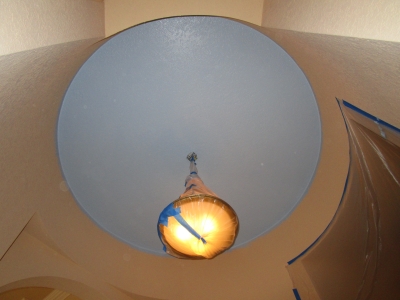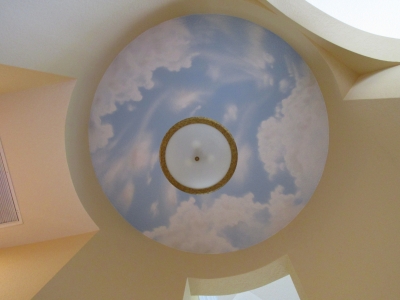 These clouds were air brushed by a painting contractor colleague of ours, Z Freeman Decorative Painting, one of the finest faux artists in Palm Beach County.
Faux Granite Painting - Electrical Receptacle Plates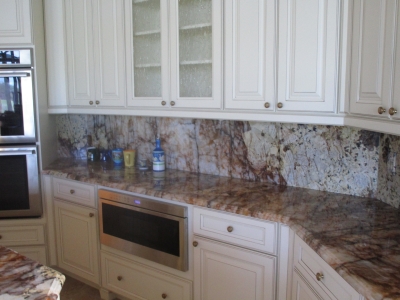 The receptacle covers in this home were faux painted to blend with the granite countertops.
Faux Wood Grain, Metal Garage Doors - Ibis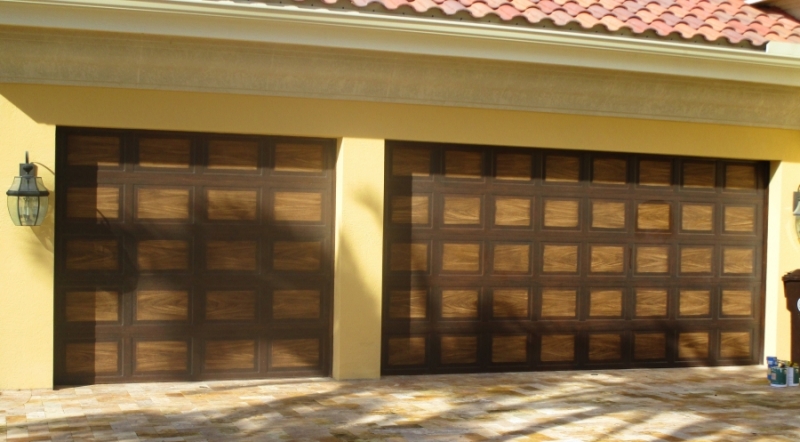 These metal doors were base coated, a faux wood grain with a glaze, and then sealed.
Master Bedroom, Dining Room, Kitchen Niches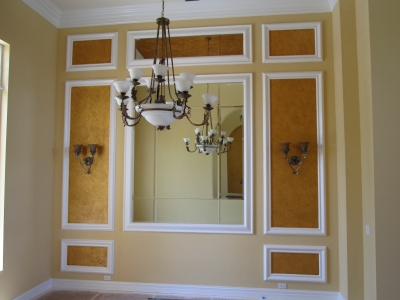 The kitchen niche was difficult because the glaze tended to dry quickly, keeping a "wet edge" was a challenge.
Home Office Ceiling Trays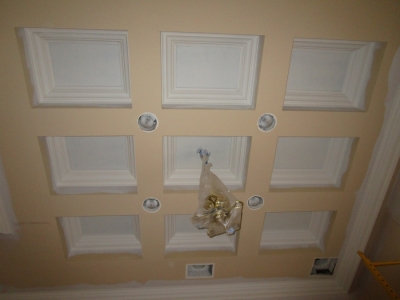 This Ibis homeowner wanted his office ceiling trays faux painted to match better with his built in stained bookshelf. We accomplished this through a three process of a basecoat, sponged glaze, and a softened ragged stain. The following pictures will display the other decorative painting work accomplished at this Ibis home.
Great Room, Dining Room Ceiling Trays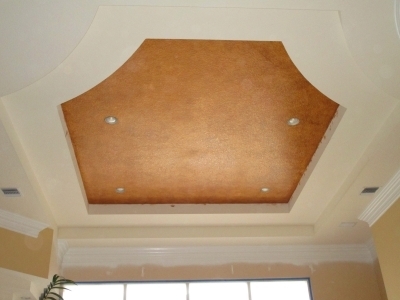 We were asked to expand the faux work in the office ceiling trays to trays in other rooms.